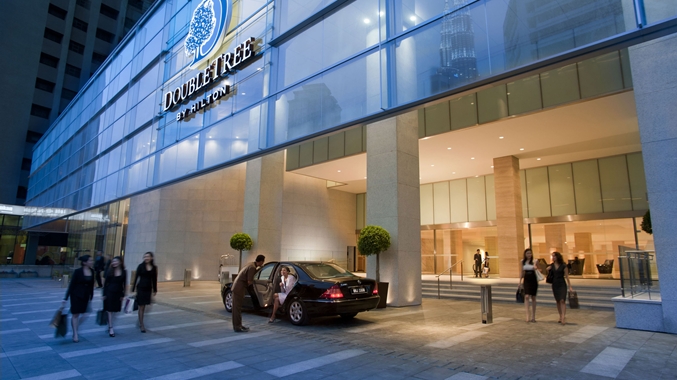 PENANG, Malaysia – Hilton Worldwide today announced the signing of a management agreement with Pinnacle Nexus Sdn. Bhd. (a member of Cornerstone Partners) to open DoubleTree Resort by Hilton Penang. Located in the northern beach area of Penang near the UNESCO World Heritage Site of George Town, DoubleTree by Hilton Penang Resort will add to the existing pipeline of five hotels in Malaysia where Hilton Worldwide currently operates six hotels under the Hilton and DoubleTree by Hilton brands.
"We are very pleased to be working with a well-respected partner such as Pinnacle Nexus to introduce the DoubleTree by Hilton brand to Penang. The signing of this agreement underscores our commitment to developing Hilton Worldwide's portfolio of brands in Malaysia. DoubleTree Resort by Hilton Penang will be a tremendous addition to the brand's rapidly-expanding global portfolio across six continents and at the same time, bolster the country's tourism profile to attract more travelers to Malaysia," said Andrew Clough, senior vice president of development, Middle East & Asia Pacific, Hilton Worldwide.
Penang is one of the top three economic centers amongst the states of Malaysia, as the country's manufacturing hub for major international high-tech electronics companies. Well known for being a tourist destination, Penang has tremendous potential as it continues to develop its MICE infrastructure as well as medical tourism offerings.
The existing hotel building will undergo an extensive refurbishment of its public areas, as well as rooms and suites before joining DoubleTree by Hilton's fast-growing global collection of more than 415 hotels and resorts in gateway cities, metropolitan areas and vacation destinations around the world. DoubleTree Resort by Hilton Penang will become the brand's third property in Malaysia when it opens in 2016, joining DoubleTree by Hilton Kuala Lumpur and DoubleTree by Hilton Johor Bahru.
"We are excited to announce yet another DoubleTree by Hilton hotel in Malaysia, extending our presence in one of our key markets," said John Greenleaf, global head, DoubleTree by Hilton. "Every aspect of this hotel is being thoughtfully designed to ensure our guests enjoy a world-class experience throughout their stay. We look forward to welcoming guests at the DoubleTree Resort by Hilton Penang with our DoubleTree hospitality and service culture which begins with a warm chocolate chip cookie presented to every guest at check-in."
Set into a hillside, DoubleTree Resort by Hilton Penang will feature 318 rooms and suites, each with its own balcony. Most of the rooms and suites will offer impressive views of the sea. The resort will have three restaurant and bar options including an all-day dining outlet, a lobby bar and a café. DoubleTree Resort by Hilton Penang will have meetings and events facilities including a ballroom and four function spaces covering an area of more than 1,300 square meters. Other facilities include a gym, an outdoor pool and children's recreational area.
"We are honored to partner with Hilton Worldwide to introduce the world-class brand of DoubleTree by Hilton to Penang. Leveraging the expertise of a truly global, award-winning hospitality company combined with strong local market expertise, we firmly believe that DoubleTree Resort by Hilton Penang will further enhance the international appeal of Penang as a tourist and business destination," said Jason Chong, Director of Pinnacle Nexus Sdn. Bhd., a member of Cornerstone Partners.
Conveniently situated along Jalan Batu Ferringhi, a popular beach destination in Penang, DoubleTree Resort by Hilton Penang is approximately 15 kilometers from George Town which is renowned for its old world charm due to the rich historical architectural and cultural townscape. The resort has easy access to Batu Ferringhi's recreational, dining and nightlife offerings and its immediate vicinity features the 420-meter coastline of Miami Beach.
– PR Newswire Asia