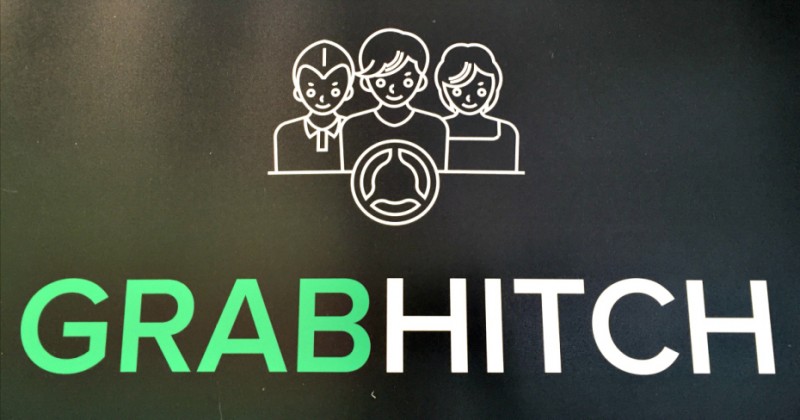 GrabTaxi app now offers multiple complementary transport services that cater to different customer segments
With GrabHitch, anyone with a car can pick up a passenger to offset cost of the journey and meet like-minded people
---
Singapore – GrabTaxi, Southeast Asia's largest land transport brand, today announced GrabHitch, an affordable social ride sharing service for Singapore commuters. This latest product offering is designed for drivers with extra space in their vehicles to pick up passengers who are going the same way. The GrabTaxi app now offers multiple complementary transport services that cater to different customer segments – with different travelling preferences and cost considerations.
GrabHitch addresses a gap in the current market and provides a transport option at a price point between taxis and public transit options, such as trains and buses. Passengers who want a convenient door-to-door service at an affordable price can choose GrabHitch. Drivers can share their ride with passengers going the same way to offset the cost of their journey.
"With over half a million private cars [1] in Singapore, there is a significant pool of vehicles with extra seats for more passengers. Every car has the potential to play a part in improving Singapore's public transport network and meet the growing demand of rides each day," said Anthony Tan, CEO and Co-founder, GrabTaxi. "With GrabHitch, we now offer the most number of complementary transport choices for people using the GrabTaxi app – to give people options at all price points, at all times and for all needs."
[1]Department of Statistics Singapore (Sep 2015)
Benefits of GrabHitch
"GrabHitch hits the sweet spot for people who want a door-to-door transport service, but prefer not to pay a premium above public train or bus fares. We think GrabHitch will attract users of public transit options, which will alleviate the crowds on trains and buses", said Tan Hooi Ling, Co-Founder, GrabTaxi. "It is a win-win for both drivers and passengers in terms of costs, and there's an added benefit of meeting new people with similar interests. GrabHitch makes transport more than a transaction – it's now also an enabler to build new relationships."
GrabHitch will match drivers and passengers who are taking the same route and going to the same destination.
Benefits to GrabHitch users include:
Social: GrabHitch is for journeys of all kinds, making it easier to meet people – and possibly new friends – with mutual interests. Drivers and passengers could be on the same commuter route from Ang Mo Kio to Cecil Street; two couples could both be going to the Singapore Zoo on the same weekend; fellow concert-goers may head to the Sports Hub from the same housing estate.
Price: Drivers will be able to offset the cost of their journey, while passengers will pay approximately half the cost of a taxi.
Safety: To help create a connected ridesharing community in Singapore, GrabHitch drivers and passengers log in to use the service with Facebook. This allows them to see each other's profile and whether they share mutual friends. Both parties can also indicate that they only want to travel with someone of the same gender.
Potential GrabHitch drivers must provide documentation including driving license, motor vehicle registration and insurance.
There will also be further verification checks for major traffic offences, in order to ensure the safety of passengers. All drivers and passengers will be continually verified by our feedback system
GrabHitch users will also have access to the robust safety measures in the GrabTaxi app, including the 'share my ride' feature that allows live tracking of the ride, and the 24-hour customer service hotline.
GrabTaxi network: All the services – GrabTaxi, GrabCar, GrabHitch and in some markets, GrabBike – are available in the GrabTaxi app. Passengers have more transport options and can seamlessly choose to book the service they prefer at that point of time.
With GrabTaxi's large user base, GrabHitch drivers – and drivers on any of our products – will also have a higher chance of getting bookings, particularly during peak hours when ride demands increases.
How GrabHitch works
Passengers can pre-book a ride seven days in advance and up to 15 minutes before pickup, by simply by entering their pickup location and destination. Drivers and passengers will be notified when a successful match of the route is made.
In line with Singapore carpooling regulations, GrabHitch drivers will only be able to accept up to two rides a day, and the fares will only cover the driver's variable costs, such as petrol and car depreciation. The fares for GrabHitch rides are calculated based on the distance of the ride and is shown upfront, allowing passengers to decide whether they are comfortable with the price before confirming the booking.
All fares are paid via GrabPay, the cashless credit card option available in the GrabTaxi app.
Availability
GrabHitch is now open for the beta driver signup phase in Singapore, which runs from 11 to 30 November 2015. Early bird drivers who sign up during this beta phase will receive exclusive GrabHitch gifts and be eligible for a lucky draw. Drivers can download or update to the latest version of the GrabTaxi app, which is available for free on the Singapore Google Play or App Store, and sign up by clicking on the "GrabHitch" icon and following the instructions.
GrabHitch will be launched to all consumers in Singapore by end-2015.
To find out more, please visit www.hitch.grabtaxi.com.