Etihad Airways, the national airline of the United Arab Emirates, will commence daily A380 services between Abu Dhabi and Melbourne on 1 June 2016.
The flagship superjumbo will operate flights EY460/461, one of the airline's twice daily Abu Dhabi-Melbourne services. It will replace one of the three-class Boeing 777-300ER aircraft currently deployed on the route.
It will also bring to Melbourne The Residence by EtihadTM, the airline's luxurious private three-room suite in the sky, as well as ground breaking product and service innovations in all cabins.
Etihad Airways' double daily service from Melbourne provides travellers from Victoria access to more than 900 weekly connections in 50 markets across the Gulf region, the Middle East, Africa and Europe.
James Hogan, Etihad Airways' President and Chief Executive Officer, said: "The launch of A380 services to Melbourne is good news for travellers on the very popular route.
"From June next year, guests on our Abu Dhabi-Melbourne A380 flights will discover what travellers the world over are talking about – the superior level of luxury, comfort, service, and inflight technology that is redefining luxury air travel and transforming the flying experience.
"What's more, the A380 service from Melbourne will connect seamlessly in Abu Dhabi to the A380 to London, offering our London-bound guests the convenience and class-leading comfort of an all-A380 service all the way."
The new A380 will increase the total number of two-way seats on the Melbourne-Abu Dhabi route by 26 per cent to more than 11,500 seats per week.
Mr Hogan added: "Melbourne is an important point on our global network, and our Abu Dhabi to Melbourne services continue to generate very high seat load factors on a year round basis.
"After just three months of operations, demand for our second daily service is already exceeding our expectations.
"Deploying the 496-seat A380 to Melbourne will enable us to accelerate our growth in the Victorian market by providing additional capacity, particularly in business class, where demand for seats continually outstrips supply."
Victorian Minister for Tourism and Major Events, The Hon. John Eren, MP, said: "Etihad's decision is good news for Victoria's visitor economy and further proof we're headed in the right direction. It means more visitors from all over the world will see for themselves everything we offer.
"Victoria has a positive relationship with Etihad Airways and, through our partnership marketing efforts in the key markets of UK and Europe, more visitors can experience Melbourne and regional Victoria's award-winning tourism attractions and nature-based experiences."
Within Australia and to New Zealand, Etihad Airways codeshares on Virgin Australia and Air New Zealand flights from Melbourne to Adelaide, Auckland, Brisbane, Cairns, Canberra, Christchurch, Coffs Harbour, Darwin, Gold Coast, Hamilton Island, Hobart, Kalgoorlie, Launceston, Mildura, Newcastle, Perth, Queenstown, Sunshine Coast, Sydney, and Wellington.
Etihad Airways commenced services to Melbourne on 29 March 2009. It added a second daily service to the route on 1 August 2015. It is the only airline offering double daily non-stop services between Melbourne and the United Arab Emirates.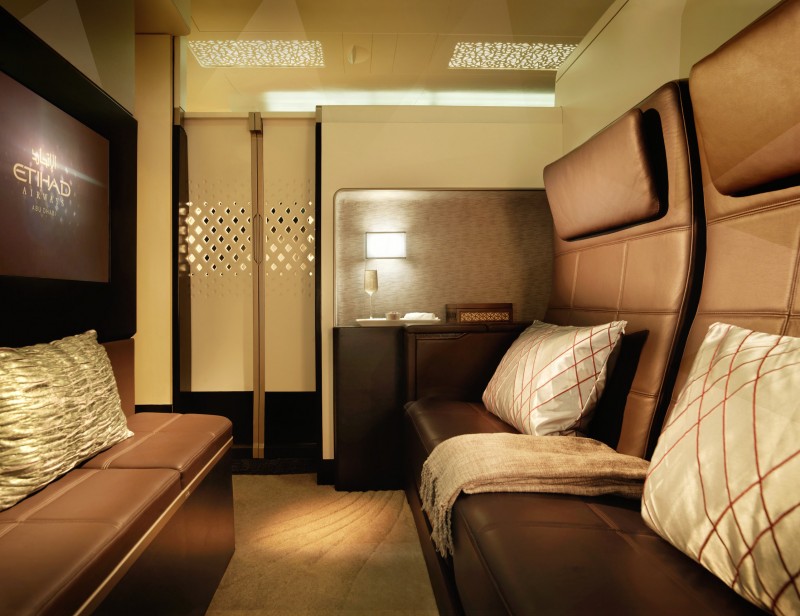 The airline has strong ties to Melbourne and the state of Victoria through partnerships with Etihad Stadium, Melbourne City Football Club, Sport Australia Hall of Fame, Melbourne Recital Centre and Islamic Museum of Australia.
Daily flight schedule between Abu Dhabi and Melbourne, effective 1 June 2016:
| | | | | | | |
| --- | --- | --- | --- | --- | --- | --- |
| Flight No. | Origin | Destination | Departs | Arrives | Aircraft | Frequency |
| EY460 | Abu Dhabi | Melbourne | 21:45 | 17:20+1 | A380 | Daily |
| EY461 | Melbourne | Abu Dhabi | 22:40 | 06:45+1 | A380 | Daily |
| EY462 | Abu Dhabi | Melbourne | 10:30 | 06:05+1 | B777 | Daily |
| EY463 | Melbourne | Abu Dhabi | 15:00 | 23:05 | B777 | Daily |
Note: All departures and arrivals are listed in local time.
About the Etihad Airways A380
Etihad Airways' unique A380s can carry 496 passengers in a four-class configuration – The Residence, First Apartments, Business Studios and Economy Smart Seats – offering an unprecedented level of luxury, space and privacy in the most highly customised commercial cabin interior ever.
The Residence by EtihadTM features a living room, separate ensuite shower room, double bedroom, and a dedicated Savoy-trained Butler. It features a large 32" LCD monitor in the living room and a separate 24" version in the bedroom. Measuring 125 square feet in total, The Residence is located on the forward upper deck of the A380 and is available for single or double occupancy.
The nine First Apartments in First Class are private living spaces featuring a reclining lounge chair and an ottoman, upholstered in Poltrona Frau leather, which opens up to become a separate 80.5" long fully flat bed. Each First Apartment offers a 74 per cent increase in space over the airline's current award-winning First Class Suites, a 24" LCD TV monitor and personal vanity unit. A fully equipped shower room is available for the exclusive use of First Class guests.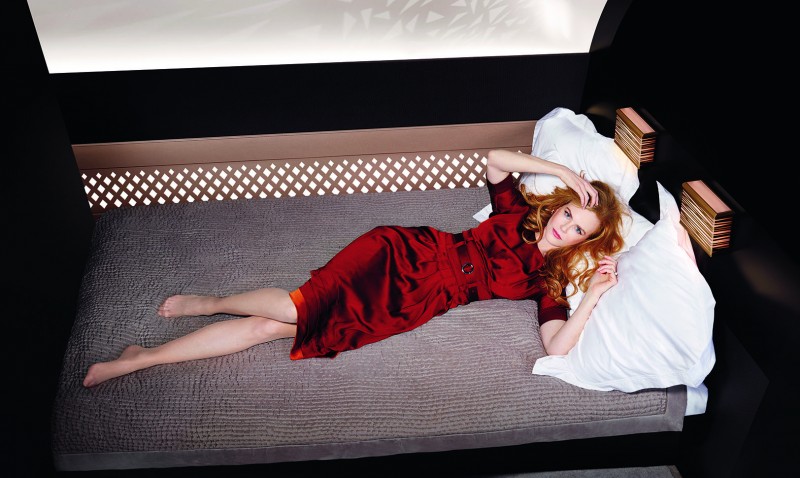 Seventy Business Studios are located on the upper deck of the A380, all offering direct aisle access, a fully flat bed of up to 80.5" long, and an increase of 20 per cent in personal space. Upholstered in Poltrona Frau leather, the Business Studio is equipped with an in-seat massage and a pneumatic cushion control system.
The Lobby, a luxurious lounge located between the First Class and Business Class cabins, features two comfortable leather sofas and a staffed bar serving a selection of snacks and refreshments.
The main deck features 415 Economy Smart Seats, which provide enhanced comfort with a unique 'fixed wing' headrest on each seat, adjustable lumbar support, a seat width of approximately 19", and an 11.1" personal TV monitor.
Etihad Airways offers the latest Panasonic eX3 entertainment system on its A380 fleet, providing more than 750 hours of on-demand entertainment, improved gaming, and high definition screens across all cabins.
The A380 has full mobile and Wi-Fi service, with USB and power points at every seat.
For more information, please visit: www.etihad.com.