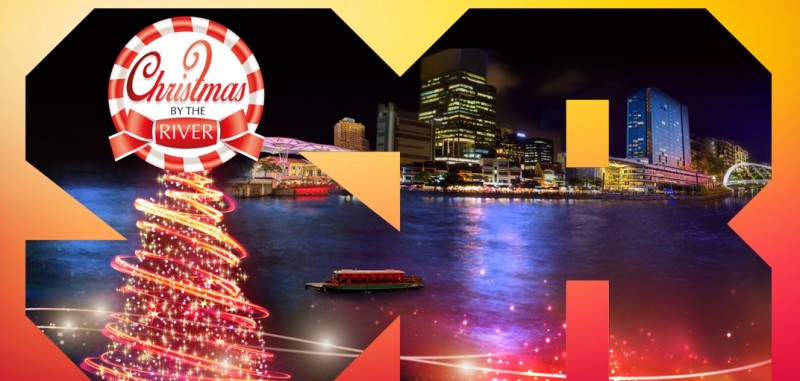 Singapore – Visitors to the Singapore River during the months of November and December can look forward to a host of unique activities and festive treats to get in the Christmas mood at Singapore's iconic three quays – Boat Quay, Clarke Quay and Robertson Quay.
"The Singapore River has developed into a thriving location frequented by locals and tourists who come to enjoy the hustle and bustle of the Singapore nightlife." expressed Ms Michelle Koh, Executive Director of Singapore River One. "This year, visitors can look forward to a fun filled programme along with lots of surprises."
Festive Feasting Begins
Foodies can satisfy their festive cravings with a wide array of traditional favourites and modern dishes to suit the Yuletide season from 13 F&B outlets along the river ranging from French to Japanese cuisine.
For more traditional fare, diners can head down to Cafe Brios located at the Grand Copthorne Waterfront and enjoy the Christmas Ballotine stuffed with foie gras, chestnut, bacon and spinach pate served with baby vegetables and roasted potato accompanied with cranberry sauce and port wine jus. This delicately crafted dish is a skilful combination of savoury, crunchy and sweet flavours in one bite with the seasoned greens and sauces provided complementing the flavourful meat.
At Town Restaurant in Fullerton Hotel another traditional favourite awaits diners, the Beef Wellington with Mushroom Duxelle, which serves up to five guests and is also available for takeaway.
For more unconventional festive delights, My Little Spanish Place located at Boat Quay will be serving the Tabla de Salchichas Artesanales (Handmade Sausage Platter) for their festive menu. Comprising of three parts — the Butifarra and Morcilla sausages as well as the Sobrasada terrine, the Butifarra and Sobrasada is handcrafted in small batches each week. The Butifarra is a Balearic staple made from minced pork and an assortment of spices and sherry vinegar, and was traditionally prepared as part of the festive rites in Majorca to mark the coming of the autumn and spring seasons.
Seafood lovers will be delighted with the Hot Stones Premium Surf and Turf with Australian Tenderloin; fresh succulent Tiger Prawns and Salmon served on a sizzling serpentinite stone platter. Served with sea salt flakes, bearnaise, salsa and red wine Jus, diners can choose to further flavour their meats with their choice of seasoning.
And finally for those with a sweet tooth, Harry's at Clarke Quay will be serving their rendition of the classic Sticky Date Pudding served warm with toffee sauce and topped with a scoop of indulgent vanilla ice cream.
Meet Santa and Rock along the Singapore River with The Coronas!
Kids too have lots in store for them this festive season. On 10 Dec 3 to 5pm, meet & greet the cast of the live show Dear Santa — UK's most popular family touring Christmas musical – at Clarke Quay Central. Besides this, there will be magic shows; cookie and cupcake decorating classes; and even a chance to sing with carollers, during the weekends between 14 to 27 December.
What's Christmas without carolling? SRO has lined up Singapore's best choir groups (IFC Singapore, KR Acapella, Vox Camerata) to perform at various locations around the Singapore River over two weekends to get everyone in the festive spirit. (4th/5th December and 18th/19th December)
Partygoers looking for something more upbeat can look forward to an electrifying free outdoor performance on 9th December by Irish band 'The Coronas' at the Clarke Quay Fountain Square where they intend to bring the house down with their infectious alternative rock songs.
There's always something for everyone at this year's Christmas by the River!
For more details on Christmas by the River F&B promotions & activities, please click here.
For more information on Christmas by the River, please visit www.singapore- river.com/christmas.