Hanoi – Carlson Rezidor Hotel Group, one of the world's largest and most dynamic hotel groups, announced the signing of a management contract with Eurowindow Nha Trang Investment and Tourism Joint Stock Company to develop the Radisson Blu Cam Ranh Bay. Scheduled to open in the first quarter of 2019, the beachfront property is one of the most anticipated new developments along the coast of this stunning Vietnamese resort destination.
"As we grow across Asia Pacific, we are pleased to expand our footprint into Vietnam and into a segment that is currently underserved in the region," said Thorsten Kirschke, president, Asia Pacific, Carlson Rezidor Hotel Group. "This latest Radisson Blu flagship will provide international and domestic travelers with a full range of innovative design-led products and services, delivering genuine and relevant guest experiences with Radisson Blu's distinctive Yes I Can!SM service philosophy."
Radisson Blu Cam Ranh Bay marks the beginning of the company's Vietnam growth story, which will focus on Tier 1 cities and resort destinations, as well as second tier cities. Carlson Rezidor is currently pursuing development opportunities in top destinations including Hanoi, Ho Chi Minh City and Danang, while also exploring upcoming destinations such as Phu Quoc, Hue, Dalat, Quy Nhon, Mui Ne, Sapa, and Hai Phong.
With the government's push to accelerate infrastructural projects, the setting aside of a USD 100 million fund to promote tourism, the relaxation of visa regulations, as well as a growing number of domestic flights, the outlook for the hospitality market in Vietnam is strong. According to the Vietnam National Administration of Tourism, the number of international visitors to Vietnam in 2014 was 7,874,312, which represents a 4 percent increase over the previous year. And the number of international visitors arriving in Hanoi in the first half of 2015 was 8.8 percent higher than the same period last year, while Ho Chi Minh City saw a 3 percent rise in international arrivals over the same timeframe.
Radisson Blu Cam Ranh Bay is a 290-key, new build, beachfront resort situated four kilometers from Cam Ranh International Airport, which is one of Vietnam's busiest and expected to handle 8 million passengers annually by 2030. Radisson Blu Cam Ranh Bay offers guests direct access to an 800-meter stretch of unspoiled sandy white beach, as well as 40 high-end villas.
The hotel's meetings facilities will include a grand ballroom and multiple meeting rooms suitable for both business events and social gatherings. The resort will offer guests the choice of two restaurants, a lounge bar and a pool bar.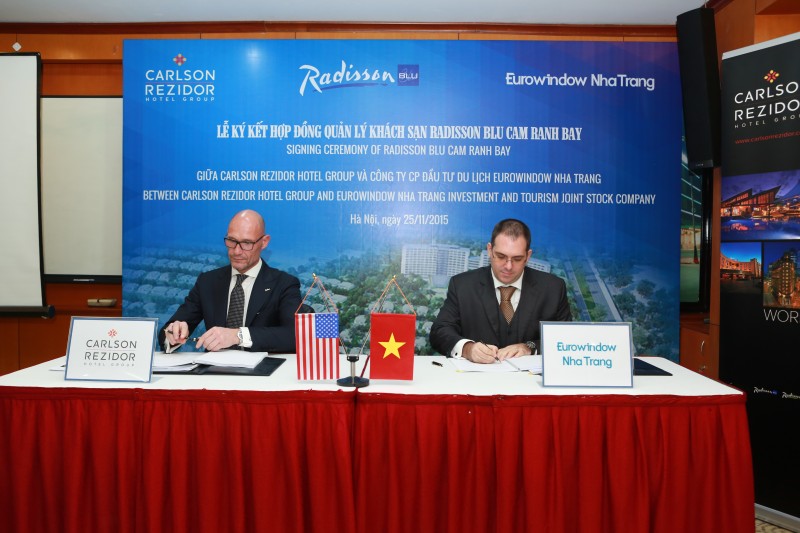 Radisson Blu Cam Ranh Bay is close to tourist attractions including Ba Ho Waterfalls, Fairy Spring Waterfalls and Thap Ba Hot Springs. The Long Son Pagoda, Po Nagar Temple, Buu Phuoc Pagoda and An Ton Church are also within easy reach, and given the deep waters off the bay, diving, sailing and surfing are just some of the activities that guests can enjoy. Radisson Blu Cam Ranh Bay will offer a range of sea sports facilities, as well as a pool, a fitness center and full spa facilities.
"We are honored to partner with a globally recognized hotel group to deliver world class hospitality in Vietnam. We are confident in Carlson Rezidor's management capabilities and in their Radisson Blu brand, which positions our hotel for solid performance," said Nguyen Canh Son, Chairman, Eurowindow Nha Trang Investment and Tourism Joint Stock Company.
Radisson Blu® is one of the world's leading hotel brands, with more than 280 hotels in operation in 62 countries. Radisson Blu offers vibrant, contemporary and engaging hospitality characterized by a unique Yes I Can!SM service philosophy. Known the world over as Hotels Designed to Say YES!SM, Radisson Blu hotels are first class hotels that celebrate leading-edge style and offer signature features that are empathetic to the challenges of modern travel, including a 100% Satisfaction Guarantee.
Radisson Blu hotels are located in prime locations in major cities, airport gateways and leisure destinations around the world.
Carlson Rezidor's Asia Pacific portfolio has 101 hotels in operation across the region, including 44 Radisson Blu hotels. Carlson Rezidor has 92 more hotels in the pipeline for Asia Pacific.
For more information and development opportunities, please visit www.carlsonrezidor.com.