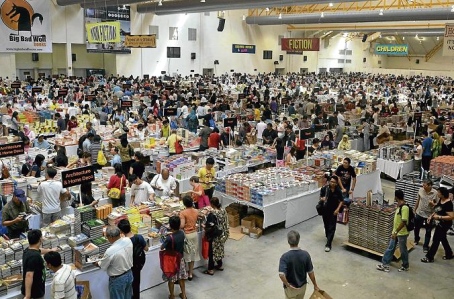 KUALA LUMPUR: The much-awaited year-end Big Bad Wolf sale is back and it is bigger and better than last year's mammoth sale.
There will be 3.5 million books in a shopping space of 14,865sq m at the Malaysia International Exhibition and Convention Centre from Dec 5 to 16.
This is an additional 500,000 books and 2,790sq m of floor space compared to last year.
The sale is organised by BooKXcess and it is on for 24 hours straight. It aims to draw one million visitors or 400,000 more than last year.
BookXcess managing director Andrew Yap said the books, which include children's books, fiction, reference books, resource books and biographies, were priced from RM1. He said there would be discounts of 75 to 95 per cent on all books.
Hong Leong Bank card users get an additional 5 per cent off their total bills.
Posters, tin signs and furniture are available at the curio corner.
Customers can take part in the Red Readerhood corporate social responsibility programme by buying books and leaving them at the Red Readerhood corner. The books will be given to underprivileged children at shelter homes.
Yap said a team of 700 service staff had been assembled to ensure that everybody had a good shopping experience. He said they had spent at least RM1.5 million to hire part-timers.
He claimed that they have to sell at least 90 per cent of the books to make a profit.
The Big Bad Wolf sale was first held at Dataran Hamodal, Petaling Jaya, in 2009.