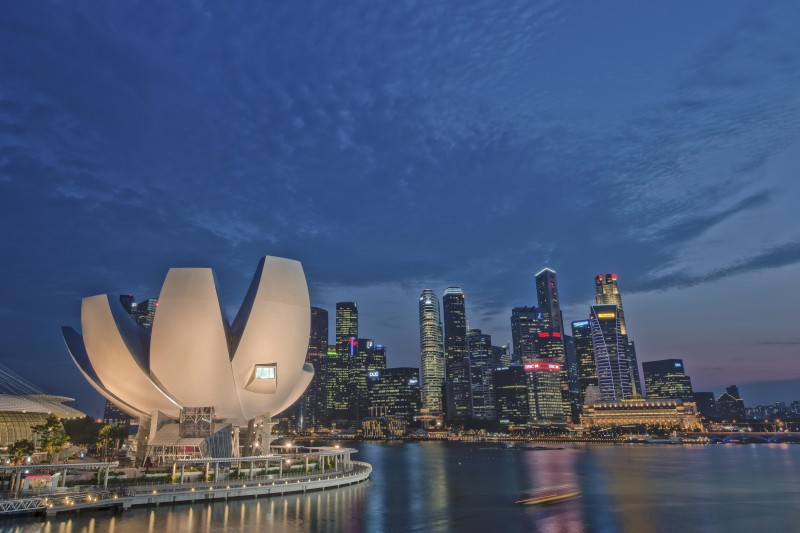 Spotlight on environmental conservation through a series of interesting exhibitions and programmes
---
Singapore – ArtScience Museum will be casting the spotlight on the Art and Science of Sustainability in the entire month of October, as it kicks off a season of eco-themed exhibitions and programmes.
Starting 10 October, it will unveil two new exhibitions – Living Yangtze by Eric Valli for Swarovski Waterschool and Sensing States: Healing Spaces, the final presentation of The Substation Art and Science Open Call. Together with The Deep, these multi-media and immersive exhibitions aim to raise awareness on the urgent need to protect the environment. The museum has also curated a series of sustainability-themed activities, talks and workshops throughout the month.
"There is a growing recognition that art and science can help us find creative solutions for global challenges such as environmental sustainability. We are therefore excited to present this season, which brings viewers through a thought-provoking journey of exploration and discovery on a topic that's getting more pressing by the day," said Ms. Honor Harger, Executive Director of ArtScience Museum. "Through moving photos, documentaries, immersive experiences and stimulating dialogues, we hope to elevate the profile of sustainability and highlight the urgent need to conserve precious natural resources."
Living Yangtze by Eric Valli for Swarovski Waterschool
Dates: 10 October – 27 October 2015
Living Yangtze by Eric Valli for Swarovski Waterschool is a multi-media project narrating the stories of seven communities living along the great Yangtze River in China as documented by Eric Valli, a distinguished film director, photographer and author. Eric Valli was commissioned by Swarovski to spend six months documenting the lives of communities around the locations of the Yangtze River.
The extensive body of work showcased at Living Yangtze by Eric Valli for Swarovski Waterschool portrays the magnificent landscapes and dignified faces of the people Eric met on his way. Home to 480 million people, the Yangtze River is the third largest river in the world and supports one-third of the Chinese population.
Featuring 96 photographs and seven short documentary films, the exhibition aims to use film as a positive medium to generate empathy and awareness about the importance of clean, sustainable water sources.
"Living Yangtze started with a basic observation: as human beings we have a tendency to forget numbers, data and things we don't like to hear about, but we remember what emotionally touches us – beauty, tenderness, passion, and harmony – for the rest of our lives. So instead of bombarding people with data and gloomy statistics, we decided to do the opposite. We wanted to make them aware of the beauty of their own heritage and traditions; to make them proud; to motivate them to act rather than discouraging them with guilt," said Eric Valli.
The Substation Art and Science Open Call presents Sensing States: Healing Spaces
Dates: 10 October – 27 October 2015
Sensing States: Healing Spaces is a three-part exhibition experience – A Familiar Forest, Seeing a Rainbow and Contemplating a Plant – that explores the harmony between mankind and nature. By engaging visitors' sense of sight, sound, touch and smell, the immersive exhibition seeks to reconnect visitors with nature.
The installations, which see natural elements being extracted and reconstructed, are based on the collaborative work of recipients of The Substation Art and Science Open Call – Zen Teh and scientific advisor Ching Jianhong.
Transporting visitors to the quietness and calmness of the forest, A Familiar Forest is an artificial forest constructed to recreate the feeling of being in an actual forest. Combining sound, the scent of leaves and a visual forest landscape, the installation aims to provide a space for visitors to experience being in harmony with the larger environment.
A key focus of Seeing a Rainbow is highlighting the important medicinal value of plants. Part of the installation is a rainbow colourscape created through projecting light on the extract of seven common plants/herbs. On display are also apparatus that showcase techniques of plant extraction for pharmaceutical usages.
Contemplating a Plant will present a 5m x 1m drawing of a mature tree that is typically found in the primary forest. To reconnect the visitor with nature, seeds will be on display for guests to pick up and grow at home.
"The Substation's Open Call programme has supported emerging artists since 2008, showcasing experimental work that pushes the boundaries. In embarking on our first collaborative project with an artist and science professional in the Art and Science Open Call, we hope that this exhibition will serve to showcase the possibilities of interdisciplinary practice," said Ms Annabelle Aw, Programme Manager for The Substation.
The Deep
Dates: 6 June 2015 – 27 October 2015
**Ticketed admission
Bringing together the largest collection of deep-sea creatures ever displayed in Southeast Asia, The Deep provides visitors with a unique opportunity to encounter the deep sea first-hand. The exhibition reveals the richness and the extreme vulnerability of the deep sea environment to the public through striking information, images and deep-sea specimens. The Deep embodies a commitment to the preservation of this fragile environment, specifically targeting young visitors to encourage them to understand the problems facing the deep sea and the need to protect it.
Sustainability-themed programming for the Season
In conjunction with the season, ArtScience Museum has also lined up a series of complimentary sustainability-themed activities including talks, curator tours and film screenings. There are also several hands-on activities that visitors can participate in within the exhibitions. One such activity within The Deep exhibition invites visitors to create deep-sea creatures using recycled materials.
Tickets are priced at $5 for entrance to both exhibitions: Living Yangtze by Eric Valli for Swarovski Waterschool and Sensing States: Healing Spaces. Tickets will be available soon at all Marina Bay Sands box offices and website.
For more information on the exhibitions, please visit www.marinabaysands.com/artsciencemuseum.