Users in California airports consumed 4x more data than those in Florida airports.
BOSTON – According to the new Strategy Analytics Relative Use Index (RUI) – highlighting how location impacts app usage relative to standard behavior – all fliers are not created equally and airports must understand user needs to deploy resources wisely.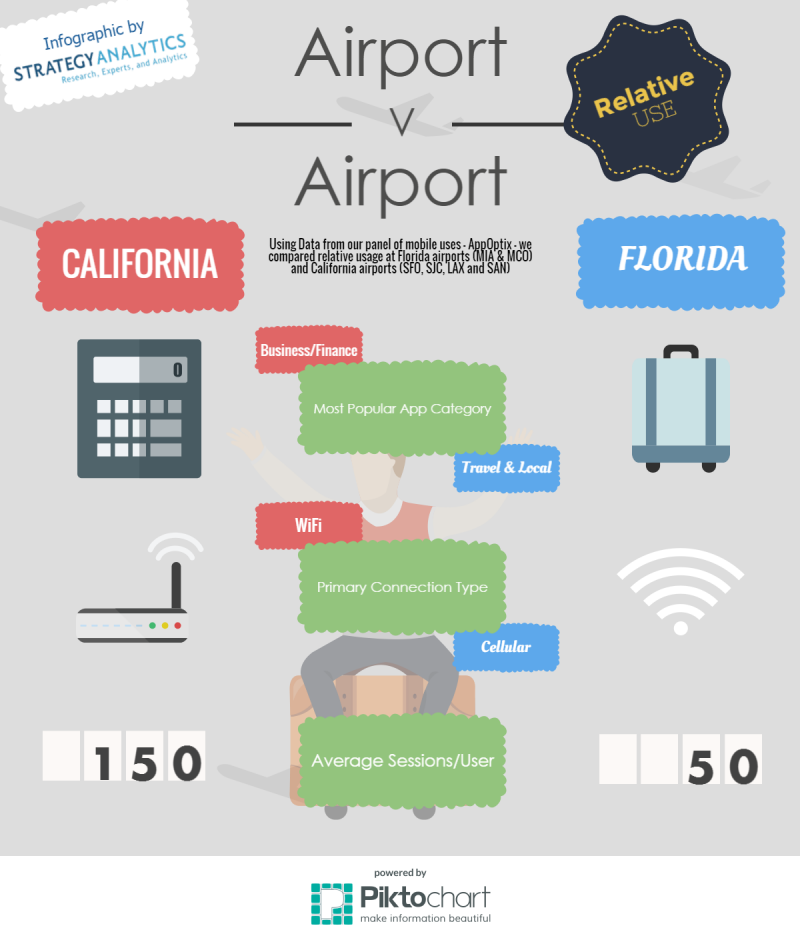 The pressure to offer free Wi-Fi as an amenity to travelers has increased as dozens of domestic airports – including Boston's Logan International, Denver International and San Francisco International – all offer free connectivity. The cost of continued network upgrades combined with potential investment in new technology – such as iBeacons – will demand airports understand users to make informed revenue generating investment decisions.
However according to the report Relative Usage Index – Airports: Lessons from LAX to MCO which used data from our AppOptix panel of smartphone and tablet users to monitor on-device activity at the airport, variations in behavior lead to three important takeaways.
Make your technology roadmap unique by segmenting users
Monitor for heavy users to avoid untoward network congestion
Create comprehensive user profiles to generate digital advertising revenue
Click here for the report.
According to Joshua Martin, Chief Researcher of the Application Strategy group, "Despite fliers spending time in airports, those in California and Florida act very differently. For airports and airlines deciding in which technology to invest, should rely heavily on understanding the unique behavior of those at the airport. Only with this insight can airports craft strategies that invest in the appropriate technologies which can be utilized as a competitive advantage and a direct/indirect revenue generator. Achieving this insight is possible with the correct data and analysis."
About Strategy Analytics
Strategy Analytics, Inc. provides the competitive edge with advisory services, consulting and actionable market intelligence for emerging technology, mobile and wireless, digital consumer and automotive electronics companies. With offices in North America, Europe and Asia, Strategy Analytics delivers insights for enterprise success. www.StrategyAnalytics.com
US Contact: Joshua Martin, +1 617 614 0770, [email protected]
– PR Newswire Asia