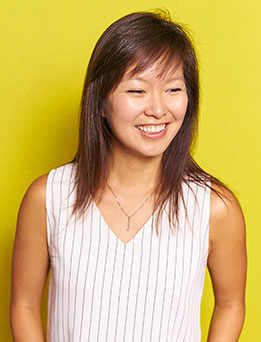 Adrienne Lee
Canada
Consultant, Tourism Cares
Adrienne is a consultant for Tourism Cares, a non-profit working to advance the travel industry's social impact, Over the last 10 years and on all seven continents, Adrienne has lead programs in socioeconomic and community-development spaces. Adrienne has a love for creating non-traditional livelihoods especially for women. Adrienne believes travel can be used for wealth distribution, to drive gender equality, and a tool to alleviate poverty remote places.
Talk: Creating Jobs For Women Through Travel
Panel: Age, Responsibilities And Expectations: Should These Things Stop You From Travelling?

Anita Ahmad
Malaysia
Founder, Travel & Be
Anita has spent the last 15 years working in the humanitarian and social development fields, and has travelled to 50 countries thus far. She has worked in conflict countries like Afghanistan, Iraq, and Sudan despite the evident risks. Anita loves to travels because she says it helps her discover both herself and humanity through what she sees and experiences.
Panel: Breaking Boundaries, Stereotypes And Records Through Travel

Anita Yusof
Malaysia
Solo Motorcycle Explorer
Anita has a great passion for adventure riding and travelling. She picked up riding six years ago specifically to travel. Only after three years of riding a motorbike, she went on her epic solo journey around the world on a motorbike. The ride, which she named 'Global Dream Ride', spanned 65,369km in 40 countries across four continents in 370 days.
Talk: Living Life In The Fast Lane: One Woman, One Motorbike And The World

Panel: Overcoming Fear And Trauma To Travel


Beverly Aisha Roach
Canada
High Risk Security Expert
Bev served in the Canadian Army for 21 years followed by a career in high-risk security. During 14 years of living in diverse conflict zones from Kabul to Darfur, Bev kept the organisations she worked with safe so they could continue their work. She started Brazilian Jiu Jitsu at 52, and is now a certified self-defence instructor and teaches security programs. She started a small sportswear line, called The Diesel Diva: #PeaceThroughSports, that allows her to sponsor athletes from areas with fewer opportunities, and helps social projects in urban low-income communities in Brazil and Pakistan.
Talk: Impressions From War And Other Life Adventures
Panel: Age, Responsibilities And Expectations: Should These Things Stop You From Travelling?
Workshop: Street Smart Self-Defence [SIGN UP]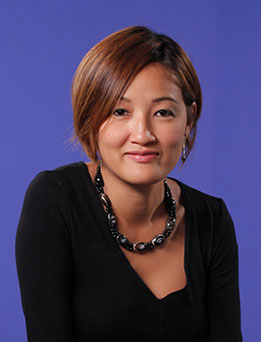 Dr. Catheryn Khoo-Lattimore
Australia
Women Travel Researcher, Griffith Institute of Tourism, Australia
Catheryn has a PhD in Consumer Behaviour, and is a senior researcher on women in tourism. She is also the Regional Field Expert for the United Nations World Travel Organisation (UNWTO)'s Global Report on Women in Tourism. She is the author of Asian Genders in Tourism and Women and Travel: Historical and Contemporary Perspectives. She holds a Fulbright scholarship for her work on girlfriend getaways, and has published works on solo female travellers in international, high-impact journals. Her work has also been featured by radio stations, newspapers, and online media.
Talk: Travel Trends 2019 and Beyond: What Will It Be For Women
Panel: What Do Women Really Want When They Travel? [SIGN UP]
Industry Session: Selling Travel To Women: A Masterclass [BUY TICKET]


Claire McFarlane
Australia/South Africa
Founder, Footsteps To Inspire
Claire is founder of Footsteps To Inspire. A rape survivor herself, Claire is currently on a mission to run over 3,500 kilometres of beach across 230 countries to peacefully end sexual violence. Through peaceful outreach and sharing her own personal story, Claire is fast becoming a voice of hope and inspiration to many. She has already run in 45 countries. Her vision is to create a movement of change, and encourage others to join her along the way.
Talk: A Woman Traveller's Worst Nightmare: What I Did To Overcome It
Panel: Overcoming Fear And Trauma To Travel
Private Session: Women's Circle With Claire McFarlane [SIGN UP]

Eliza Thomas
Malaysia
Editor, Zafigo.com
Although she graduated from film school, Eliza had always had a passion for writing. She got her break in the publishing industry in 2012 at Cleo Magazine Malaysia. As an editor, she has spent the last six years writing and editing for various print and digital magazines in Malaysia, Singapore, Australia, and Hong Kong. She is currently the editor of Zafigo.com, a website that is dedicated to uncovering women's potential through informed and independent travel.
Panel: The Art Of Travel Writing [SIGN UP]

Hermandari Kartowisastro
Indonesia
Photographer
Hermandari, or Ibu Ndari, is a photographer, activist, and world traveller. At 67, she picked up an interest in photography, went on to pursue her passion and became a professional photographer. On her 70th birthday, she launched her first photography book titled Mengapa Tidak?. Hermandari also owns an interior construction business. To date, Ndari has travelled to over 60 countries in regions like Asia, Europe, and America, and is showing no signs of stopping.
Talk: 65 Countries At 75 – What I Have Learned
Panel: Age, Responsibilities and Expectations: Should These Things Stop You From Travelling?

Himadri Garg
India
Photographer & Founder, Ghoomophiro Sisters
Himadri of Ghoomophirosisters is a traveller, photographer, and digital marketer. She exhibits her photography annually at the Indian Habitat Centre in New Delhi. Together with her sister Prachi, she has been exploring India for over eight years. Their travel musings are penned down at www.ghoomophiro.com, and they have been featured on CNN Travel, Indian Express, Femina and various other publications. Himadri and Prachi have also won awards from MP Tourism and Gujarat Tourism Board for their services to the travel industry.
Talk: Why India Is Safe To Travel Solo For Women
Panel: Women Travellers: Balancing Life, Career & Travel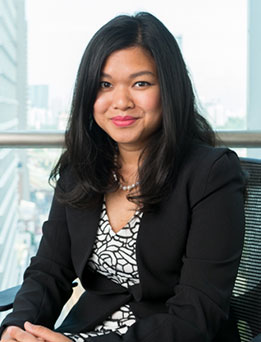 Khairun Nisa Zabidi
Malaysia
Sustainability Consultant, PwC Malaysia
Khairun Nisa recently moved back to Malaysia and the corporate life after taking a four-year sabbatical from work to live abroad, travel, study and raise her kids. To mark the end of that volatile but incredibly rewarding chapter of her life, she decided to go on a pilgrimage from her old home in London to her new one in Kuala Lumpur, over land. She packed up her three- and five-year olds and crossed 11 international borders and 8 time zones over 30 days, to start all over again. In her past life, Khairun was a climate activist and social entrepreneur. She now consults high-profile clients on future-proofing their businesses with PwC Malaysia's Sustainability and Climate Change practice.
Panel: Age, Responsibilities And Expectations: Should These Things Stop You From Travelling
Workshop: Answering The Call Of The Open Road: Taking The Leap And Planning That Long-Term Adventure [SIGN UP]

Mandy Tay
Singapore
Photographer
A visual storyteller, Mandy is much more into meeting locals than she is striking off lists of sights to see when she's on the road. Finally back in Singapore after her time in Hong Kong and Dubai, she is on a quest to expand the hearts of everyone she meets (by at least two sizes), one travel video at a time.
Workshop: Capturing Unforgettable Moments While Travelling [SIGN UP]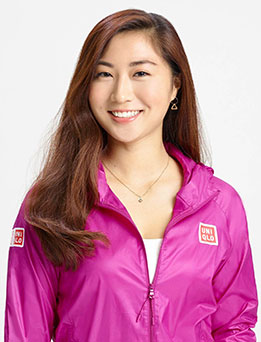 Marin Minamiya
Japan
Guinness Record Holder, World's Youngest Person to Complete The Explorer's Grand Slam
Marin is the Guinness World Record holder of the youngest person in the world to complete the Explorer's Grand Slam. She is the youngest Asian to have climbed all the highest peaks on each of the seven continents, as well as reached both the North and South poles. Currently studying Political Science at Waseda University, she plans on one day sailing across the world.
Talk: Why And How I Did The Explorers Grand Slam
Panel: Breaking Boundaries, Stereotypes And Records Through Travel
Workshop: Climbing The World's Highest Peaks, And Trekking The North And South Poles [SIGN UP]

Marina Mahathir
Malaysia
Founder, Zafigo.com & ZafigoX
Marina is a writer and activist whose passion for women's rights has been a constant thread throughout her working life. She is an HIV/AIDS activist, and has also co-produced a TV programme for young women called 3R – Respect, Relax & Respond, to educate them about their rights and to provide them with options in life. In 2014, Marina founded Zafigo.com, a travel website for women in Asia, which seeks to empower women through informed and independent travel.
Panel: Women Travellers: Balancing Life, Career And Travel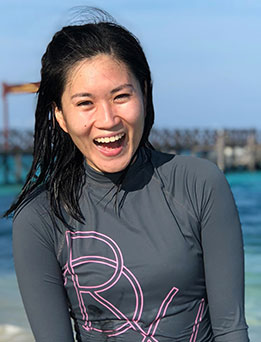 Mei Mei Chu
Malaysia
Award-Winning Travel Blogger & Journalist, meimeichu.com
Mei Mei first started travelling at age 18, at a time where travel narrative and images were dominated by men. "Where are the Asian women who travel?" she asked herself, thus sparking a life-long commitment to meimeichu.com, a travel blog where she shares intimate and honest stories from the experiences of travelling solo. Mei works to inspire other young women to seek their own adventures and through it, find independence, strength, and empowerment.
Talk: Millennial Travelling: Not Doing It For The 'Gram
Panels: Overcoming Fear And Trauma To Travel and The Art Of Travel Writing [SIGN UP]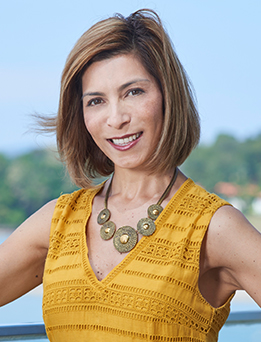 Michelle Caporicci
USA
Managing Director, St. Regis Langkawi, Westin Langkawi Resort & Spa & Langkawi International Convention Centre
With over 25 year's hospitality industry experience, Michelle's diverse background includes various senior leadership roles in both sales and operations; focusing the last 20 years in the luxury market. She is currently helming in Langkawi overseeing three iconic properties; The St Regis, The Westin and the Langkawi International Convention Centre. Michelle spent the last 10 years calling Asia Pacific her home, living in mainland China, Hong Kong and now Malaysia. A yoga enthusiast, a global traveller, imbibing new cultural experiences, and an inquisitive culinary curiosity, she enjoys getting lost in any city.
Panel: What Do Women Really Want When They Travel? [SIGN UP]


Dr. Sakia Haque
Bangladesh
Founder, Travelettes of Bangladesh
Sakia Haque is the founder of Travelettes of Bangladesh, a travel group of over 23,000 women who love travelling. Coming from a society that simply doesn't allow for women to travel the world, Sakia is helping her countrywomen explore their homeland as well as the world beyond. She is working to change her country, empower women and inspire them to travel so that they grow to be free-spirited and independent.
Talk: Breaking Gender Stereotypes And Discrimination Through Travel
Panel: Breaking Boundaries, Stereotypes And Records Through Travel
Workshop: The Reality Of Solo Female Travel In Bangladesh [SIGN UP]

Sue May Teh
Malaysia
Social Media & Content Associate, Zafigo
As an honorary Geordie who majored in the study of Media & Pop Culture, Sue May's interest in engaged storytelling began at a young age. Her passion for quality content quickly grew into an obsession thanks to the whirlwind that is digital media, and she has written for various digital and print publication over the past five years. A writer by trade, she also works extensively in the area of social media, digital strategies and analytics.
Panel: The Art Of Travel Writing [SIGN UP]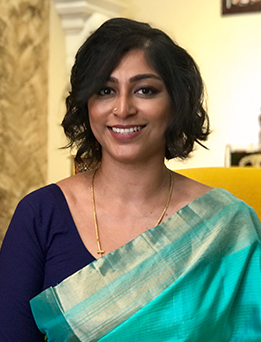 Sumitra Selvaraj
Malaysia
Founder, Sarees & Stories
Sumitra has been immersed in the field of Communication in Malaysia for over 18 years now as a broadcast news anchor, writer, producer and director of current affairs programmes. She is currently an Executive Producer at Maxman Studios where she helms a number of talk shows both in front of and behind the camera. Her short stories have been published in local anthologies and she won the 2018 Short Story Prize at the Asian Women Writers Festival in Singapore.
Panel: Overcoming Fear And Trauma To Travel

Xyza Cruz Bacani
Philippines
Visual Artist
Xyza Cruz Bacani is a Filipina street and documentary photographer based in Hong Kong. She uses her work to raise awareness about under-reported causes. Having worked as a domestic worker in Hong Kong for almost a decade, she is particularly interested in the intersection of labor migration and human rights. She is one of the Magnum Foundation Photography and Social Justice Fellow 2015, has exhibited worldwide, and won awards in photography. Xyza is also Fujifilm Ambassador.
Talk: Breaking Barriers: From Domestic Worker To International Photographer
Panel: Breaking Boundaries, Stereotypes And Records Through Travel