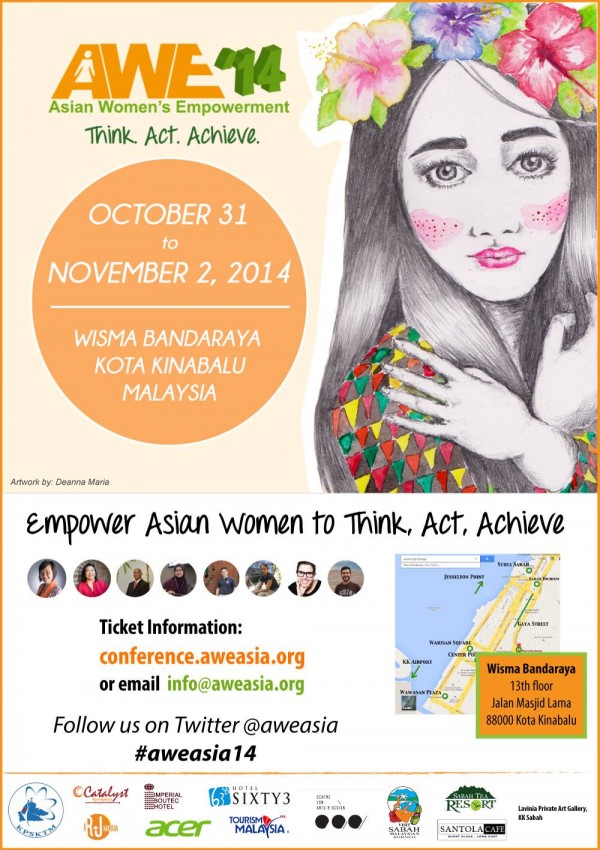 The 2nd Asian Women's Empowerment (AWE '14) Conference will be happening later this week in Kota Kinabalu, Malaysia.
To those who are unfamiliar with the initiative, AWE is an annual motivational conference held to raise awareness and empower Asian women to follow their dreams and thrive in an independent lifestyle.
AWE '14 will feature a diverse list of speakers who will share their stories of struggle and success, and provide real-world guidance and workshops for those keen on taking the first step towards an independent lifestyle and creating a path for future success.
On what inspired the creation of AWE Organisation, founder – and also travel writer and photographer – Juno Kim says:
"As a woman, and an Asian, I've overcome a number of big obstacles in my life over the last three years. I've met lots of inspiring people during my travels who have been through similar troubles.
But most of the encounters I have had since I declared my so-called 'Bucket Living' lifestyle were with people who stood exactly where I was three years ago: full of questions and fear, feeling lost and numb. Asian women who were desperately seeking for opportunities beyond what they had traditionally been offered, but didn't have the courage and knowhow to power through; these are the people who inspired me to organise this community.
I want to encourage women to take charge of their lives, follow their hearts and passion, in spite of social norms. Moreover, I want them to be supported and prepared to deal with societal reaction, and know the challenges they will face."
AWE '14 Details:
Date Friday, 31 October – Sunday, 02 November 2014
Venue Wisma Bandaraya, 13th Floor, Jalan Masjid Lama, 88000, Kota Kinabalu, Sabah, Malaysia
Price Early Bird: $50   Regular: $70   Last Minute Registration: $80
To know more about AWE '14, visit conference.aweasia.org or follow them on Facebook and Twitter .
To register for AWE '14 click here.
To know more about the AWE host, Juno Kim, visit Runaway Juno

Read Next: