WUZHEN, China – The 3rd Wuzhen Theatre Festival will be held from October 15th to 24th. The committee has recently released a complete guide that can help visitors enjoy the Theatre Festival.
The Wuzhen Theatre Festival offers 73 incredible performances from 12 countries and districts this year. Nibelungen! The Ring Cycle, performed by the Thalia Theatre, Hamburg, is one of the most remarkable dramas on stage, acting as a blend of stage script from well-known German playwright Hebbel and modern performance towards ancient myths and legends from contemporary Wagner. This is a rare opportunity to be immersed in a seven-and-half-hour play. The play will be performed only on October 20th and 21st.
Also, director Peter Brook, Tony Award for Best Play winner, Honorary President of the 3rd Wuzhen Theatre Festival, will bring his latest production, The Valley of Astonishment, on October 23rd and 24th.
Wuzhen has released all the performance information on its official website so that festival-goers from all over the world can see what to expect.
Five sample theatre tours for visitors: Grand Slam Planduring which visitors are able to enjoy as many performances as possible, Renowned Groups Plan, Avant-garde Plan that contains maximum new plays, Comedy Plan that includes all comedies played on stage and Weekend Plan specifically designed for those who could only take a visit in Wuzhen on weekends. Visitors could also explore food, accommodations, and transportation points online, designing their unique theatre tour.
"Information is transferred quickly nowadays. As a forerunner of this trend, we have to do our best to deliver all information requested as soon as possible in order to offer a better travel experience," said Chen Yu, Managing Director of Wuzhen Theatre Festival.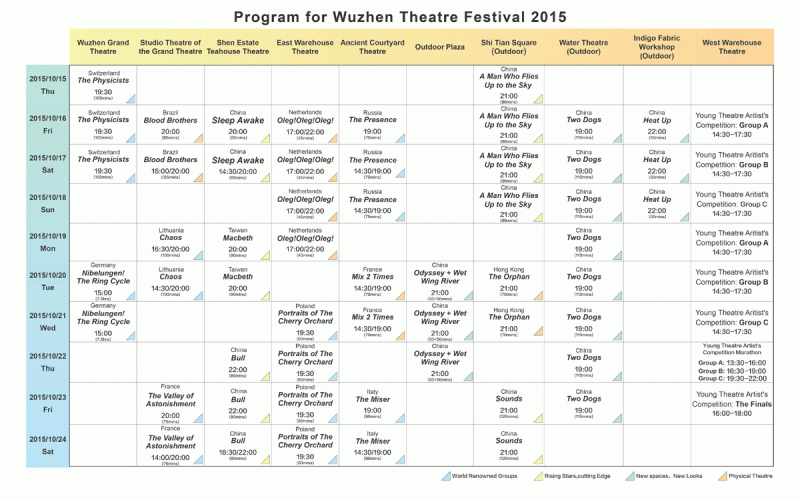 For more information about the Wuzhen Theatre Festival, please visit: www.wuzhenfestival.com, or call: +86-573-8873-2588